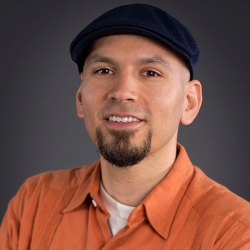 Cesar Ché Rodriguez
Assistant Professor
Faculty Advisor
Phone: (415) 338-1062
Email: crodrig@sfsu.edu
Location: Online via zoom
Cesar, che, Rodriguez is an Assistant Professor in the Criminal Justice Studies program at San Francisco State University. Originally from Daly City and South San Francisco, his education began with his family, where he learned to pursue his education as a form of self-defense from his mother, as well as to practice reflexive criticism from his father. He is a transfer student from the College of San Mateo, and earned his BA from UC Berkeley, where he joined the McNair Scholars Program. He earned his doctorate in Sociology from UC Santa Barbara, where he studied the school to prison pipeline and the Oscar Grant moment/movement. Generally, his work focuses on race, class, hegemony, and social movements. In particular, he examines whiteness as a US tradition of fascism, which has been archived in two racial regimes - the prison, and the border.
Learning is essential for the formation and functioning of a radically democratic society.  His goal as an educator to work with students so they can perform the following fundamental tasks: to critically analyze texts; to articulate their own evidence-based claims that make an intervention in a given discussion; and work collaboratively to realize a collective intervention. While he works in the social sciences, he sees his duty inline with the humanist tradition of the liberal arts, as a radically democratic humanism is as important as the technical skills our students need to realize their personal, professional, and social goals.
His duty is to investigate social issues to produce and share rigorous knowledge that contributes to our collective discussions and decisions. His research focuses on racial regimes, historically and geographically specific formations constituted by A) racial discourses that warrant B) institutionally racist practices.  He understands whiteness as a US tradition of fascism that re-/produces racial regimes and racial capitalism. Specifically, he examines how racial regimes are warranted in the 21st century through ostensibly color-blind discourses of law & order and balanced budgets, and how punitive state institutions, like prisons or borders, facilitate racialized exclusion and exploitation.